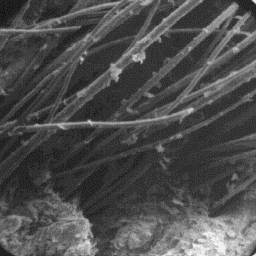 Camelus ferus
-------------
English: Bactrian camel
German: Trampeltier
French: Chameau bactriane
Spanish: Camello
Distribution areas
------------------
The bactrian camel is found both in the
wild and domestic varieties in the prairie
areas of eastern and central Asia.
Description of the fur
----------------------
The hide of the mature animal is up to Detailed structure
280 cm long, light grey-brown in colour. of the medulla, 60x
The hairs are slightly curled, the coarse
guard hairs are straight.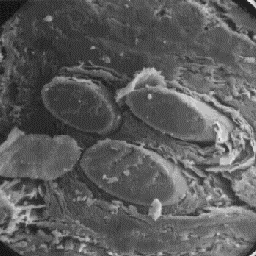 Camelus ferus
-------------
English: Bactrian camel
German: Trampeltier
French: Chameau bactriane
Spanish: Camello
Structure of the hair
---------------------
The microscopic structure of the skin
surface is furrowed; the hair follicles are
wide with sunken edges. There are clusters
of hairs in the follicles.
The fine fibres are 15 to 20 µm in
diameter. Their cross-sectional outline is Transverse section
circular and the cuticular scales are of an intermediate fibre, 600x
cornet-like or even, tile-like in the upper
parts. The scale surface is smooth and scale margins are straight. These
fibres are non-medullated. The diameter of the intermediate fibres is from 20
to 50 µm. The cross-section is elliptical with a narrow, unbroken medulla in
the upper half of the shaft. The medulla is central symmetrical-shaped,
belonging to the sponge-cortex-like type. The structure of the infilling
medullar substance is amorphous. The cuticular scales are even, tile-like
with a smooth scale surface with either straight or crenated margins.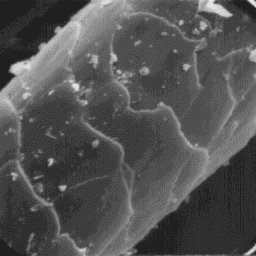 Camelus ferus
-------------
English: Bactrian camel
German: Trampeltier
French: Chameau bactriane
Spanish: Camello
The guard hairs are elliptical in
cross-section, with a diameter of 50 to 95
µm. The cuticular scales are of an even,
tile-like, or crenated, tile-like shape
with a smooth surface and straight, or in
the upper parts, rippled scale margins. The
medulla is narrow, unbroken and central
symmetrical-shaped in cross-section. The
medullar column is filled with foam-like, The cuticular structure
amorphous material. of the fine fibres, 2000x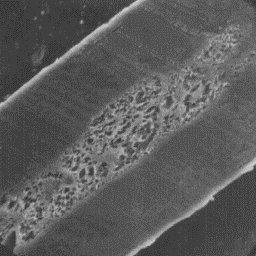 Camelus ferus
-------------
English: Bactrian camel
German: Trampeltier
French: Chameau bactriane
Spanish: Camello
Longitudinal section
of an intermediate fibre, 1000x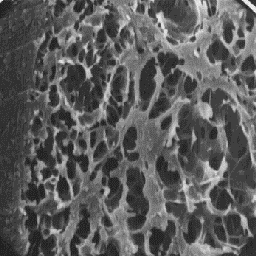 Camelus ferus
-------------
English: Bactrian camel
German: Trampeltier
French: Chameau bactriane
Spanish: Camello
Detailed structure
of the medulla, 4000x
Numerical code for bactrian camel skin structure
------------------------------------------------
Surface of the skin: 3-1-3
Fine fur fibres: 1-5.2-1-1.2-4-0-0-0-0-15.21-12.21
Intermediate fibres: 1.2-2-1-1.2-3-1-1-7-5-20.51-18.49
Guard hairs: 2-2.4-1-1.2-3-1-1-7-5.8-50.95-45.75